ADVANCED ACTIVE ANAESTHETIC AGSS WASTE GAS SCAVENGING UNIT.
ACTIVENT MK2
Manufactured by, and exclusive to, O'Neill Medicalia Ltd.
RCVS Practice Standards 2014, item 5.9: "The practice must provide facilities for the scavenging of anaesthetic gases (Legal)"
Item 5.11 "The practice must carry out monitoring of anaesthetic pollutants in the operating areas and maintain written records of this (Legal)" 5.11 additionally says "If a sophisticated active scavenging system is in operation, it must be serviced annually. An inspection certificate must be available and is an acceptable alternative to personal dosimetry"
Activent ® can pay for itself in 12 months!!
E.G. 20 x Fluosorber @ £15 each = £300. Annual dosimetry waste gas monitoring, (Burtons) £230.50, Savings year 1, £235. Year 2, £530. Etc.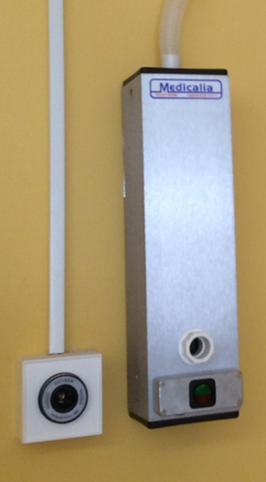 ACTIVENT Solo (£295)
is a fan-driven, single-station AGSS anaesthetic waste-gas exhaust system.
ACTIVENT Multi (£345)
contains a light-action one-way valve, allowing up to 4 Activents to be connected into a single exhaust pipe to the exterior of the building, simplifying installation.
Unlike Aldasorbers (which are bacterial hazards), Activent will remove all anaesthetic waste gases, including Nitrous Oxide. It is normally wall-mounted, adjacent to the Anaesthetic work-station. It is easily installed by the average handyman, using the (supplied) starter installation kit.
Normal anaesthetic protocols or equipment need not be altered.
The design incorporates a fixed 3-Litre reservoir, with one end open to atmosphere via 4 inlet vents on top of the unit. This built-in
Air Break
acts as a safeguard against any possibility of the system generating a positive or negative pressure at the patient end. ACTIVENT draws approximately 6 Litres per minute of room air, into which the waste gas is very simply directed via standard 30mm connectors and 22mm flexible scavenging tubing (supplied). The air and waste-gas mixture is actively propelled out of the top of the unit to the point of disposal, up to a distance of 15 Metres. The 3 Litre air-break ensures that any large exhalation, and/or squeezing of the reservoir bag at the patient end does not spill over into the work environment. Illuminated ON/OFF rocker switch. A green light illuminates to indicate when the fan is running, as the unit is near silent in operation. Our main competitor offers
air-breaks at £679.02 each
! And single station scavenger at
£1249.05 each.
Installation kit: 'V' plate & bracket wall-mounting kit; DC Power Supply Unit; 30mm-22mm connector with scavenging tubing, connects patient-circuit scavenging (APL) exhaust valve into Activent; Flexible
exhaust tubing connects upwards to rigid tubing, into a right angled connector, through the wall (22mm diameter hole, above head-height) to the exterior of the building, terminating in a 'tee piece'. Installer may extend the system to maximum length if 15 Metres using standard 21.5mm FloPlast overflow tubing and connectors, readily and cheaply available from SCREWFIX, and many DIY Stores.