Piped Oxygen System
Also In: Nitrous Oxide & Medical Air 7-Bar.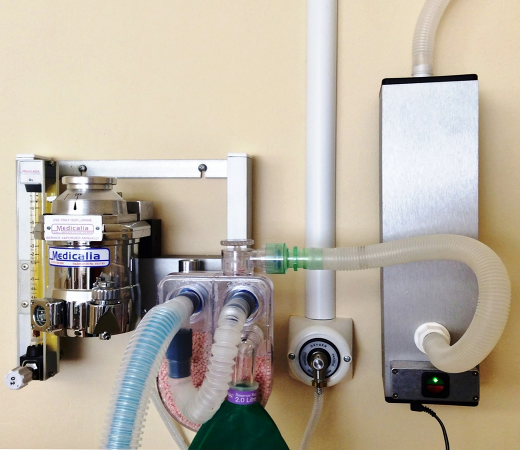 Typical Anaesthetic Workstation, supplied and installed by O'Neill Medicalia. For tailored quote, call 0151 708 5268.
Typical quote for a 4-outlet installation.
Basic p
rice
£2,450
. Additional outlets
£190
each.
A.G.S.S. waste gas scavenging units, from £295 per work station. See Activent information.
Typical installation of a
PIPED OXYGEN SYSTEM
in a Veterinary Practice, comprising: 4 gas outlet points, to British Standard 5682, located as agreed.
Supply all components, fittings and pipe materials, installation, testing and commissioning of system.
1 x safety cylinder-restraint rack for two 'G' size [3,400 Litres] Oxygen cylinders. A supplement is required if 'J' size cylinders are to be used, as the reducing valves need to be the more expensive pin-index type.
Two
Pressure Reducing Valves, 4 bar output, with safety blow-offs, and contents gauges. These are located adjacent to the cylinder bank and are connected to a manifold, via two
non-return valves
.
These valves prevent transfilling from full cylinder to empty, and also mean that even if one Reducing Valve is completely unusable for some reason, the system can still be safely used. 1 x main gas distribution manifold, located inside building, to suit customer. The four Oxygen outlet points are fed via seamless, de-greased copper pipes, connected to the main gas-distribution manifold.
We do not install using plastic tubing due to the appalling fire risk
. Just think what would happen if, in a minor fire, the plastic piping should melt, there could be an almost instantaneous release of up to 6,800 Litres of Oxygen! Further outlets may be easily added at a later date. Pipework is routed above false ceilings where possible.
Vertical
pipework, below ceiling line, usually encased in white PVC trunking.
Price is based on a modern or new-build installation area, and complete system can usually be
up-and-running in one working day!
Complex old buildings, with thick solid walls, and difficult pipe-runs, normally attract a supplementary charge, at a level pre-agreed with the customer. Optional electronic gas-failure alarm, £195: warning-lamp and siren operate at 2.5 bar; alarm can be temporarily 'muted'. Scavenging may be installed at the same time. Travel mileage and travel time charged at a level pre-agreed with the customer and is dependent on distance from base. 1 or more night's accommodation (if necessary) arranged by customer, or charged at cost.